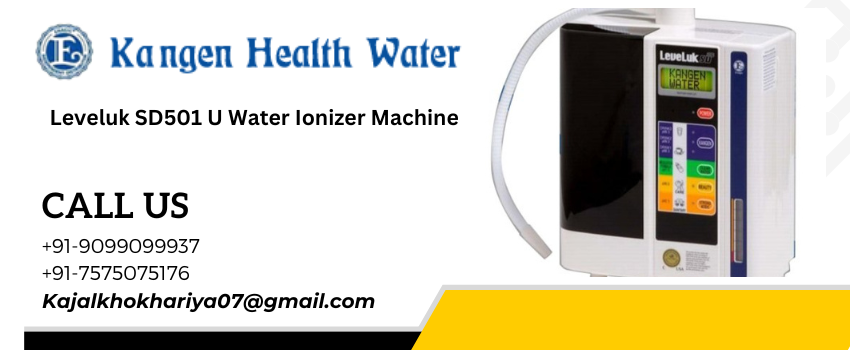 Leveluk SD501 U Water Ionizer Machine is available in India to make the water clean and liable to drink. It is automatic and run by electricity.
Choosing and buying the best water purifier machine is not an easy job. Before buying any machines, especially Water Ionizer Machine, you should aware of the right information, the features of the machine, and how to use it. These days, the home water purifier is added to the list of the main household equipment. It is as significant as your washing machines, air conditioning unit, heaters, etc. More significantly, water purifier plays a main role in keeping health at the right point.
Quick industrialization in the middle of several countries results in the decline of water quality at home. Now, the Natural water sources are polluted due to the agricultural runoff and careless use of chemicals in several households. Most untreated industrial wastes still find their way to our house water supplies. People, who wish to enjoy a healthier life, can choose the Leveluk SD501 Water Ionizer machine easily available on the market. The machines promise the finest quality of water purification that is automatic and run by electricity.
Let's discuss the top features of the machine
• The machine can convert normal tap water into either acidic or alkaline water, in the middle of 2.7 PH and 11.5 PH). The process helps make the tap water healthier by stripping heavy metals, ozone, chlorine, and other contaminants from the source water. The quality
• Water ionizer also adds mineral ions support into the drinking water, making it quite alkaline compared to regular tap water. Our water ionizer machine has the dimension 279 x 345 x 147 mm.
• The machine has 8 electrode blades in a machine sized about 135 x 75 mm.
• Our machine comprises 8 solid electrode plates that decrease energy consumption.
• Due to the lesser power used up, this Kangen water machine is simply appropriate for smaller families with one or two members.
• The ionizer machine of the brand weighs about 5kg and can clean itself mechanically, which is periodically managed by a microcomputer.
• The machine will also teach when it is the precise time to shift the water filter with the assistance of sound and meaning on the LCD panel.

Leveluk SD501 U Water Ionizer Machine Supplier is serving the needs of the customers. The water ionizer machine delivers comes into the market with 5 years warranty and is offered all over India. If you wish to export the machine, the minimum order quantity of our Leveluk Kangen 8 water ionizer machine is 20 pieces. We bring our products with the best quality packaging. Therefore, contact Kangen Health Water to finest the best quality water ionizer machine with the finest price offers. If you are interested in buying the machine, you can place your order online. You can also explore more products and information on Leveluk SD501 U Water Ionizer Machine.